In the world of interior design, there's a special place for pieces that exude both classic charm and contemporary allure. The Ethan Allen Transcendence Collection effortlessly achieves this delicate balance, defining spaces that are not just stylish, but timeless. This collection is a testament to artistry and innovation, showcasing exquisitely crafted furniture with sleek transitional shapes, new wood finishes, and unique fabric textures. Let's delve into some of the standout pieces from this remarkable collection.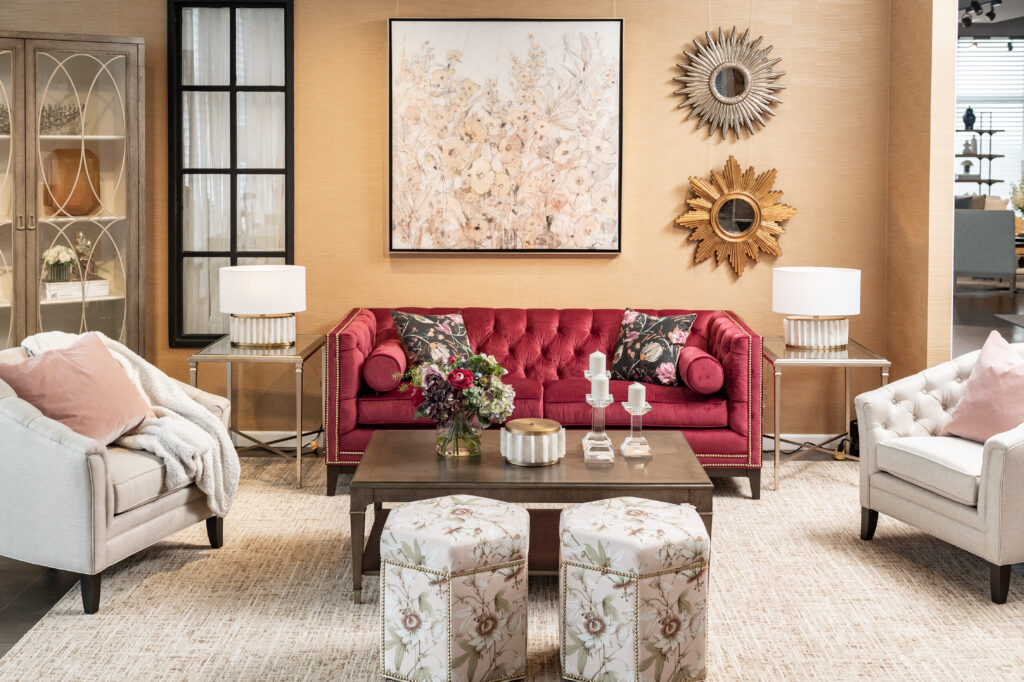 1. Clement Bed
This classic bed, inspired by neoclassical design, has been updated for today's bedrooms. Crafted from Indonesian mahogany and mahogany veneers, it features short, tapered posts with satin gold collar details and olive ash burl veneers on the head- and footboard panels. Available in Modern Walnut with Burl and Shale with Burl, the Clement Bed is the epitome of elegance and comfort.
2. Reid Desk
With three soft-close drawers and a sleek, simple profile, the Reid Desk combines functionality and aesthetics. Crafted from Indonesian mahogany with olive ash burl veneers, it's supported by a steel base finished in Satin Gold.
3. Stanton Round Dining Table
With a sunburst pattern created by hand-placed cathedral walnut veneers, this round dining table is a work of art. The resin pedestal, finished in Satin Gold, adds a touch of opulence. Available in two sizes, it's perfect for hosting intimate dinners or larger gatherings.
4. Grafton Demilune Console Table
Crafted from Indonesian mahogany with olive ash burl veneers, this console table features a Carrara marble top, backed by an aluminum honeycomb stabilizer. Available in two elegant finishes, it's a beautiful and functional addition to any space.
5. Blyth Bar
The Blyth Bar comes in two stunning finishes, encased in a brass frame, featuring a starburst veneer pattern on top and doors. It offers ample storage for glasses and bottles, making it the perfect addition to your home bar.
6. Elton Coffee Tables
Blending Regency-inspired form with neoclassical details, the Elton Coffee Tables are crafted from Indonesian mahogany and cathedral walnut veneers. The Satin Gold steel ferrules and collar details on each leg add a touch of luxury, making them a perfect addition to your living room.
The Transcendence Collection by Ethan Allen defines spaces that are both classic and current. We invite you to experience the timeless elegance of these exquisite pieces in our showrooms. Discover how this collection can transform your home into a space that exudes sophistication and style.
Visit our showrooms today and let your home transcend time and trends. Our Design Specialists are ready to assist you with For the best experience, schedule your visit here.